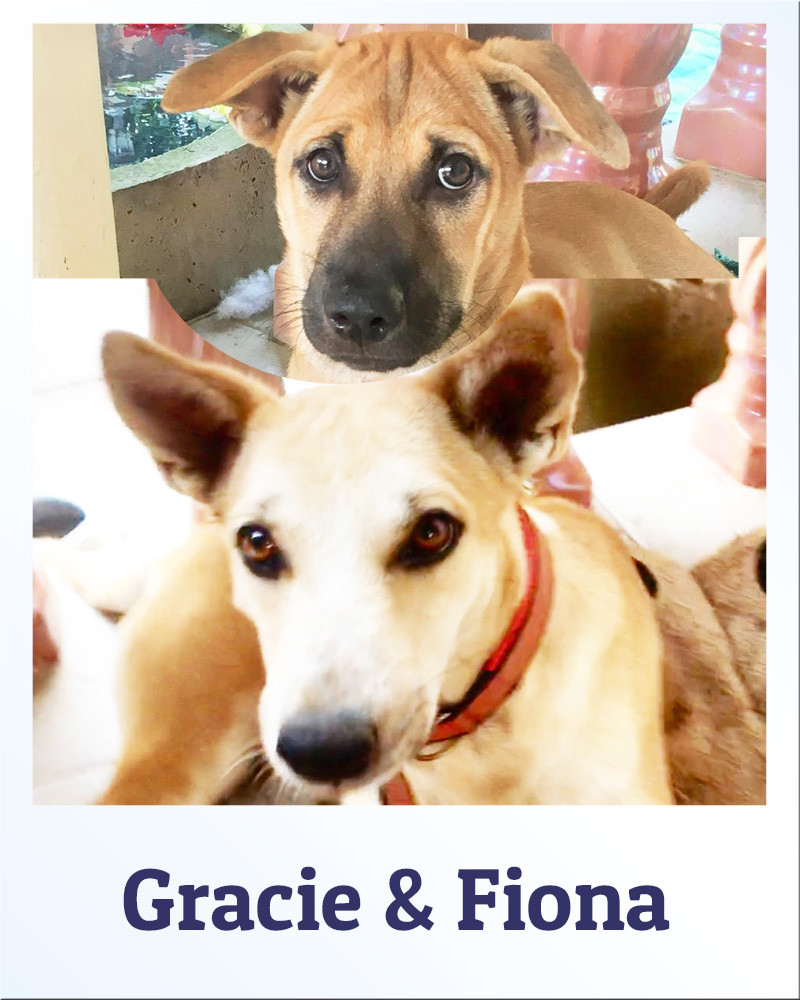 Hi, we are Gracie and Fiona!
Medium sized female dogs, adoptive mother and daughter team. Gracie was born 20th Sept 2018 and Fiona is approximately 2 years old.
Our Story
We were both rescued by our lovely foster mummy, Natalie. She found me (Gracie) with my 2 siblings alone in the street at around 1 month old and took us all in. Fortunately I was lucky to be 'adopted' by Fiona, another female ex-stray our mummy takes care of. We are both are looking for a forever home, if possible together because we love each other so much.
We are both happy, healthy doggies that are fully vaccinated and sterilized. My mum (Fiona) has a beautiful soul. She is very shy and likes to be outside, even sleep outside. She is a fabulous watch dog, takes her job very serious. She does not connect to people easily, but is a quiet and peaceful soul. Very alert and very smart. She has fully recovered from TVT. She is a strong mum and we make a super Team!
ADOPT ME
If you can provide a secure, loving fur-ever home for me then please email adoptions@pawss.org
Want a really AWESOME last minute present?
Then our virtual adoption gift pack is perfect! Simply let us know which dog or puppy you would like to virtually adopt, your email address for delivery and the name of the recipient for personalization.
Adoption Gift Pack
We will email you pdf files of the following for you to either email to the recipient or download and print for a more personal touch:
Thank you letter from your new fur baby
Photo Postcard with location stamp
Official Personalized Adoption Certificate
+ A FREE Bonus Happy Holiday card (limited time only)
We aim to email all Gift Packs within 2 hours, but please allow up to 10 hours for delivery
Alternative ways you can help
We have monthly subscription packages where your support can help to pay for the food, medicine, clothing, bedding, toys, love and care these animals need. Select a Care Package below: