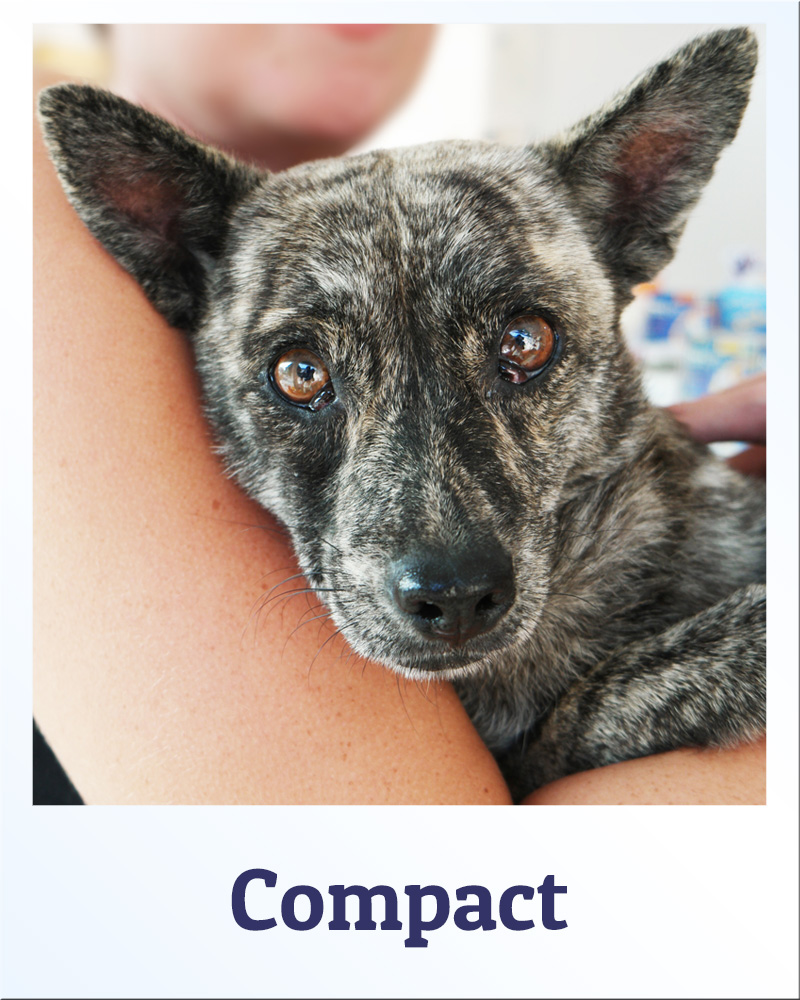 Hi, I'm Compact!
I'm a small-medium sized female dog around 2-3 years old. I'm really LOW maintenance, I love people and get on with other dogs and cats pretty well too.
My Story
Fortunately I was found just in time! I'm a cute and chunky little meatball of a dog that lived mere meters from a very busy street. I was picked up because my silly human friends thought I looked pregnant and almost ready to give birth and they didn't want me to have puppies on the roadside. They soon discovered I was not pregnant, and not that fat either! but that I was slowly dying in extreme pain, full of puss with a bad case of Pyometra. Pyometra is a serious, life threatening condition that must be treated quickly and aggressively (just so you know) Pyometra is a secondary infection that occurs as a result of hormonal changes in the female's reproductive tract, most likely from some not so nice humans injecting me too many times with birth control medication. I was so scared when they took me in for major surgery to remove all the toxic puss, but so relieved when I woke up again. My belly was no longer like a beer barrel and sure I'm still sore, but I'm recovering well with the Nun. I would really like my own human family, I'm so sweet and gentle, you will hardly even notice I'm there!
ADOPT ME
If you can provide a secure, loving fur-ever home for me then please email adoptions@pawss.org
Want a really AWESOME last minute present?
Then our virtual adoption gift pack is perfect! Simply let us know which dog or puppy you would like to virtually adopt, your email address for delivery and the name of the recipient for personalization.
Adoption Gift Pack
We will email you pdf files of the following for you to either email to the recipient or download and print for a more personal touch:
Thank you letter from your new fur baby
Photo Postcard with location stamp
Official Personalized Adoption Certificate
+ A FREE Bonus Happy Holiday card (limited time only)
We aim to email all Gift Packs within 2 hours, but please allow up to 10 hours for delivery
Alternative ways you can help
We have monthly subscription packages where your support can help to pay for the food, medicine, clothing, bedding, toys, love and care these animals need. Select a Care Package below: